Ethiopia is at risk of the negative effects of climate change. Climate projections for the coming decades predict more extreme weather events – including recurrent droughts and heavy rainfall in different parts of the country. This is expected to have a negative impact on the economy, including reducing the amount of land which can be used for agriculture and decreasing crop productivity. 
Increasing climate resilience is thus an urgent priority for Ethiopia. At the same time, the country has vast potential for achieving low-carbon status: it is rich in forests and has access to a range of renewable energy resources including hydro, solar, wind and geothermal energy. 
The Ethiopian government has shown a strong policy commitment to climate change, through both Ethiopia's NDC (which prioritises both mitigation and adaptation measures) and the Climate Resilient Green Economy (CRGE) Strategy, which maps Ethiopia's path to attaining three interlinked goals of economic growth, net-zero emissions and resilience building.
The government has also taken steps to liberalise the economy and, in doing so, create a more conducive environment for climate finance. Whilst progress is being made, there is still a significant shortfall between current levels of climate finance and that which is required for implementation of the CRGE Strategy (which is estimated at US $7.5 billion per year).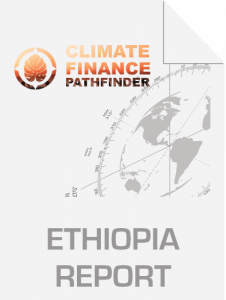 CLIMATE FINANCE PATHFINDER – ETHIOPIA REPORT
The Climate Finance Pathfinder Ethiopia report includes an analysis of the country's climate finance landscape, including: Ethiopia's climate policies; current sources and types of funding; and a number of barriers and enablers for increased levels of climate finance. Based on our analysis of these factors, the report also offers a number of recommendations for how to mobilise increased levels of funding going forward. 
Funding for the report was provided by the Rockefeller Brothers Fund.  
Estd. Annual cost of CRGE implementation
of the population work in Agriculture
of Ethiopia's highlands currently classed as degraded
of total electricity generation from hydro